AN ADVENTURE THAT BEGAn 
MORE THAN 130 YEARS AGO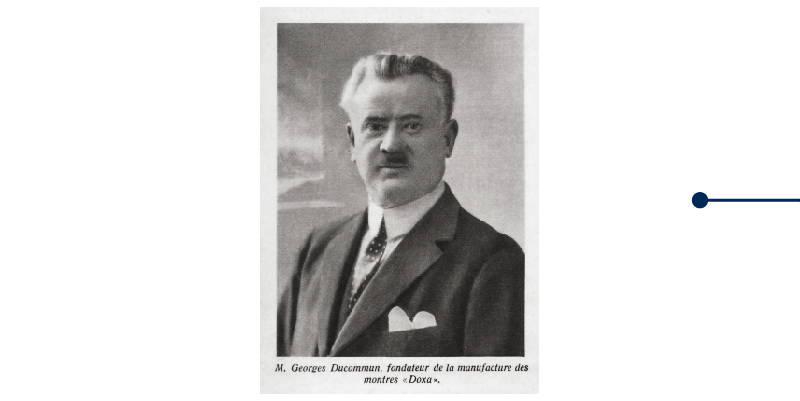 In the cradle of Swiss watchmaking
The place: the small town of Le Locle, deep in Switzerland's Jura Mountains. Already it is known as the cradle of Swiss watchmaking. Georges Ducommun, one of 13 children, is twelve years old when he begins his apprenticeship with an established watchmaker in 1880. His family is not well-off and, hard work and discipline being second nature to him, he contributes to the household with his wages. George's passion for mechanical precision and beauty grows, as do his skills, with each timekeeper that passes through his expert hands.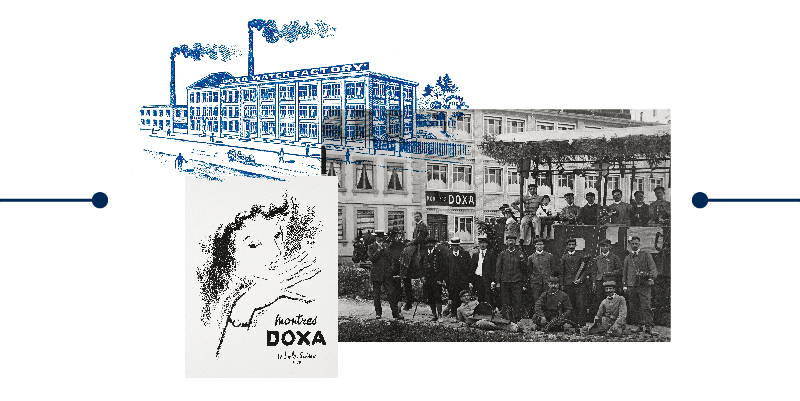 1889. The adventure begins…
At 21, Georges is in business for himself, enjoying a solid reputation for ingenuity, attention to detail, quick service and customer orientation – on occasion even logging twenty-odd kilometers on foot to deliver a watch. Still, with each movement he brings back to life in the workshop in his backyard, he can't help but imagine how tweaking this component or modifying that one would result in a better watch. Georges realizes that it's time to step out of his comfort zone. A watchmaking startup is born: "Georges Ducommun, Fabriques Doxa."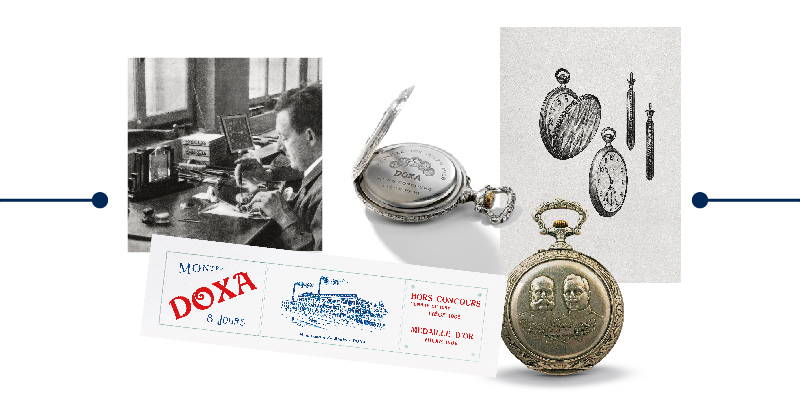 A new name for Quality, Value…
"Doxa" – the Greek word for glory, and by extension for reputation – soon becomes synonymous with timepieces of exceptional workmanship, quality and value. Likewise, it doesn't take long for Georges' unique craftsmanship to be recognized beyond Neuchatel, or Switzerland for that matter. In 1905, his pocket watch is honored at the "Exposition Universelle et Internationale," the World's Fair held in Liège, Belgium, and in 1906 an anti-magnetic DOXA wins the gold medal at the World's Fair in Milan, Italy.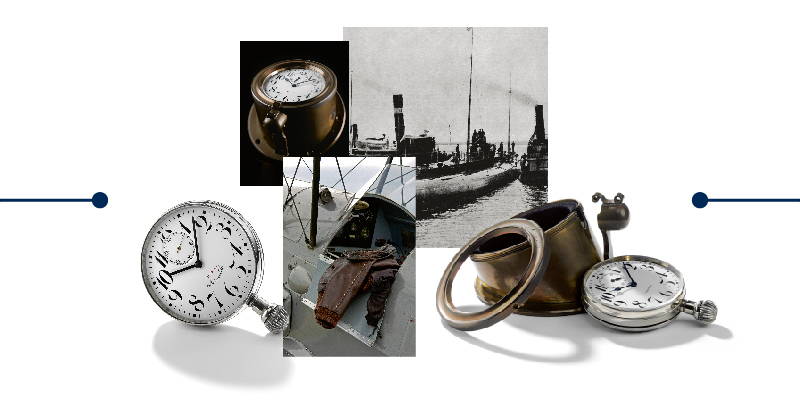 The automobile revolution is well underway by now and Georges' ingenuity and knack for optimization come through in an ingenious solution to a growing need, especially on the endurance races that are all the rage: a robust and reliable dashboard-mounted clock with an adequate power reserve. In 1908, he files a patent for the "8-Day DOXA Caliber" and it becomes standard equipment on Bugatti's racing cars – and a standard for the industry, as the instrument panels of other automotive brands soon sport a DOXA, too. Ships and airplanes follow.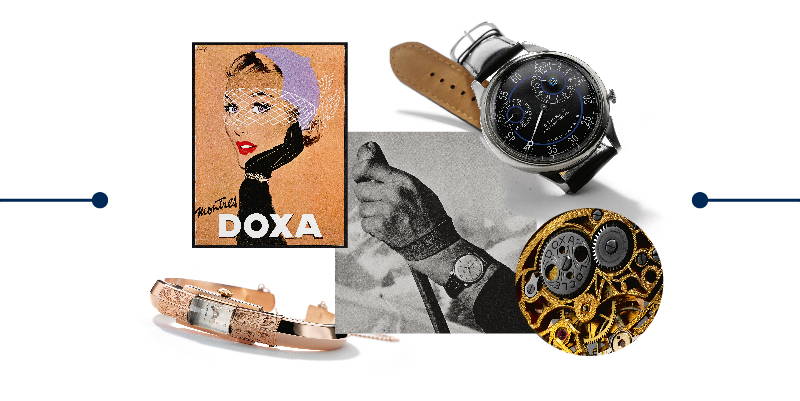 A reputation for ruggedness and precision
For Georges, the demand for ruggedness and split-second precision drives innovation. When he passes away in 1936, his son-in-law, Jacques Nardin (grandson of Ulysse Nardin, founder of the renowned eponymous brand), takes the helm and stays the course. While the focus is on timepieces for travel and sports, DOXA continues to develop watches for every type of customer. Innovations include alarms, ring-watches and technical advances such as a date-pointer and a jumping second hand.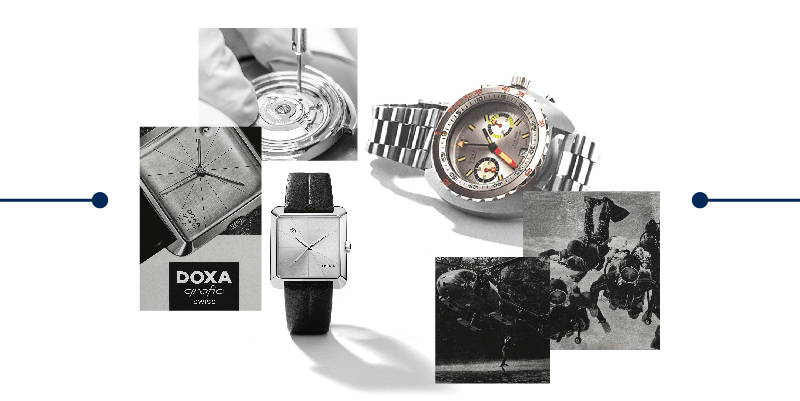 Timelessness comes from purity of purpose
In 1957, a minimalist dress watch becomes an instant classic: the Bauhaus-inspired "Grafic" Collection testifies to DOXA's aesthetic credentials. In 1967, the SUB is the first truly purpose-designed, professional-grade watch accessible to the growing community of sports divers. Developed in cooperation with the legendary Jacques-Yves Cousteau, the SUB dive watch concept introduces radical innovations that make it the benchmark for professionals and military divers, too. Still to this day.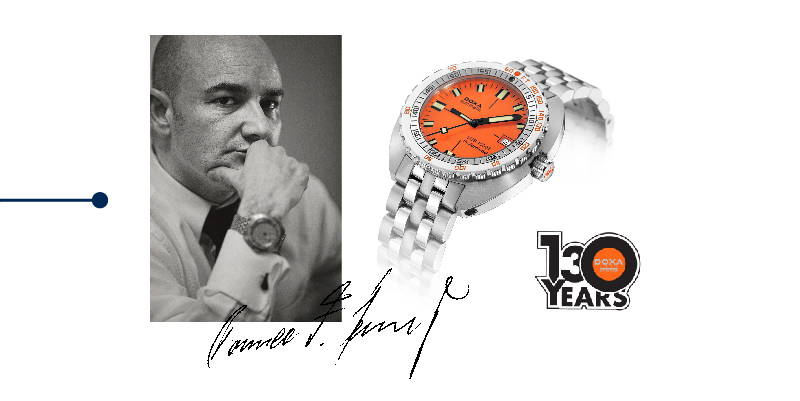 The following decades are somewhat turbulent for the Swiss watchmaking industry, with the advent of quartz technology just one of the many challenges DOXA and other great brands must come to grips with. Building on the enduring appeal of iconic collections, a new era begins when the Jenny family, active in the watchmaking industry for four generations, acquires DOXA in 1997. The headquarters are transferred to Biel, Switzerland, and Romeo F. Jenny is appointed CEO. Today, over 130 years after it began, the adventure continues.